The Ultimate Guide to PLM Software
To gain a first-mover advantage in today's highly competitive market, companies require the ability to innovate rapidly. This can be a challenge as emerging technologies continue to add greater complexity to the product development process. Today, organizations need to rely on enterprise product lifecycle management (PLM) solutions to overcome product development hurdles and achieve commercialization success. In this article, we provide an overview of PLM and explore key factors that you should consider when adopting new software.
What Is Product Lifecycle Management (PLM)?
Product lifecycle management (PLM) enables original equipment manufacturers (OEMs), original design manufacturers (ODMs), and their supply chain partners to control and approve all of the data and processes that are tied to the product record from concept through design, development, and production. This includes drawings, specifications, documentation, bills of materials (BOMs), engineering change orders (ECOs), quality records, and approved manufacturer/vendor lists (AMLs/AVLs).
A product's lifecycle typically begins with a concept or idea that stems from the identification of a new market opportunity. Resources are then put toward research to determine if the product is feasible from technical, regulatory, and financial standpoints. Once the product is deemed feasible, processes associated with new product development (NPD) take place.
The key phases of NPD include:
Development: This phase includes all activities associated with the specification, design, and prototyping of a product. The goal is to further validate that the product can meet market needs. Specifications and prototype designs are developed based on market research and technical insights from the engineering team. The prototypes then go through several iterations until all requirements are met.
Limited Production: This phase is intended to test the manufacturability of the product design. The product team ensures that off-the-shelf (OTS) parts can be adequately sourced and that manufacturers can build custom parts as needed. Another critical aspect of this phase is ensuring that supply chain partners can build products that meet the organization's quality goals. This involves an iterative process in which specifications, work instructions, and tests are revised until all of the information required for full production is compiled.
Full Production: The main objective of this phase is to manufacture products in high volume at a targeted or competitive cost of goods sold (COGS). During this phase, the engineering and manufacturing teams will evaluate ways to reduce costs without compromising quality.
Once an organization completes NPD, the four key stages of the product lifecycle, including new product introduction (NPI), begin.
Product lifecycle stages:
Introduction: Once a product is developed, the first stage is its introduction or release to market. During the introduction stage, companies invest heavily in marketing to build product awareness and generate consumer interest.
Growth: During the growth stage, demand for the new product increases. There is also an increase in production and product availability.
Maturity: This is the most profitable stage for companies, as the costs of marketing and production decline.
Decline: During this stage, the product loses market share due to increased competition.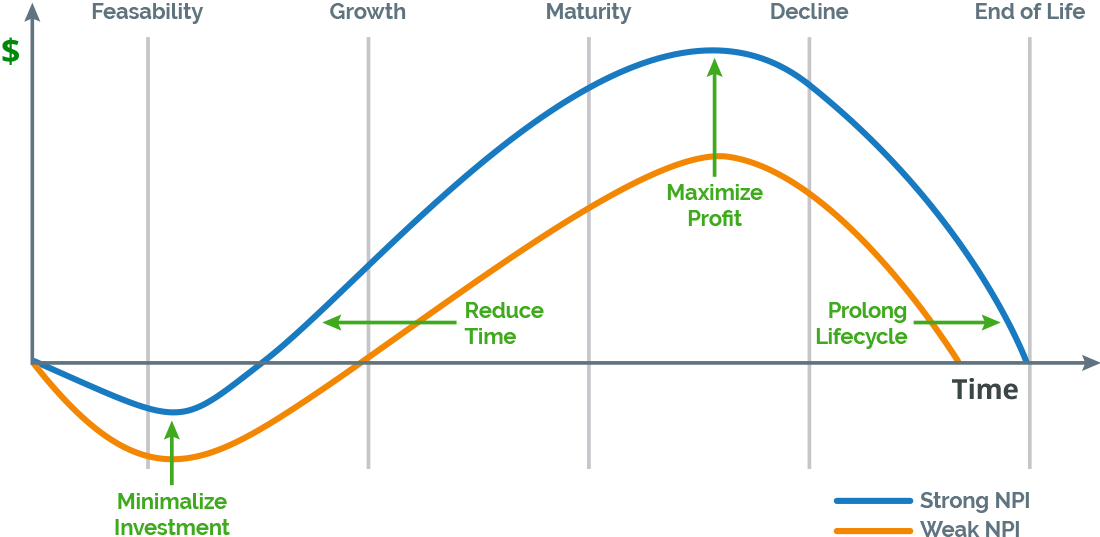 What Is the Purpose of PLM?
PLM enables engineering, manufacturing, related product teams, and supply chain partners to streamline the design, development, production, and servicing of products while driving continuous quality improvement.
Evolution of Product Lifecycle Management (PLM)
The origin of PLM can be traced back to 1950 with the introduction of a configuration management (CM) system by the U.S. Department of Defense. This paper-based system was used to document and track how new products were configured. Two decades later, the U.S. military issued standards on how government contractors should use configuration management. These standards focused on management, quality, and interoperability and were one of the key drivers for PLM.
The development of computer-aided design (CAD) software and product data management (PDM) systems in the 1980s eventually gave way to the introduction of a computer-based PLM solution by Unigraphics, a division of McDonnell Douglas.
In 1985, American Motors Corporation first used PLM to accelerate the production of their vehicles, and eventually, in 1992, their Jeep® Grand Cherokee was the first recorded product built using this process.
The first multi-tenant Cloud PLM solution was later introduced by Arena (now Arena, a PTC Business) in 2000. Today, PLM is used across numerous industries to centralize the entire product record, improve collaboration across dispersed teams, and boost productivity
What Is the Difference Between PLM and Product Data Management (PDM)?
PDM tools are primarily used within engineering teams to effectively manage work-in-process engineering design efforts as multiple versions are introduced. These tools typically provide a shared data repository for designs—enabling engineering workgroups to better collaborate as the product design evolves.
PLM, however, is more comprehensive, as it encompasses the entire concept-to-production process. It brings all of the mechanical, electrical, and software designs together and shares them with the entire product team—from quality to procurement to manufacturing, including external supply chains. Everyone on the team—not just engineering—can review the entire design and provide input before releasing the final product and starting production. Essentially, PLM software solutions extend beyond the design phase to manage all data and drive all processes associated with new product development and introduction (NPDI).
What Is Product Lifecycle Management (PLM) Software?
PLM software brings the entire mechanical, electrical, and software design together into one shared system. By eliminating engineering, quality, and manufacturing silos, dispersed teams can collaborate in real time throughout the NPDI process.
Product lifecycle management software was first introduced as on-premises client/server solutions that required firewall safeguards and heavy infrastructure resource investments. Today, cloud-based PLM solutions sold under software-as-a-service (SaaS) models eliminate infrastructure expenses and large upfront software purchases with a pay-as-you-go subscription.
9 Essential Elements of PLM Software
Collaboration
A critical function of cloud-based enterprise PLM software is the ability to bring dispersed teams together using a single, unified system. Internal product teams and supply chain partners can collaborate in real time from any location using web browsers. This eliminates silos and ensures that everyone is always on the same page. Collaboration includes formal communications—such as engineering change order approvals with gated user access, and informal discussions—such as linked chats between product team members.
BOM Management
The ability to effectively manage your bill of materials (BOM) ensures that the most current product revisions are accessed by all members of the product team, including supply chain partners. It also ensures that costs are properly allocated throughout the production phase and that product teams have visibility into any changes that may impact production further down the line.
Engineering Change Management
Engineering change management provides controlled design change processes that speed product development. Product team members can process formal engineering change requests (ECRs) and engineering change orders (ECOs) more efficiently with automated approval routings. Team members can also document changes as they are released and track the status of change orders throughout the entire product lifecycle.
Document Management
To meet the demands of today's highly regulated environment, companies must be able to store, track, and manage all of the documentation associated with product and quality records. This includes product specifications, assembly instructions, standard operating procedures (SOPs), quality policies, and training records. Document management allows for the centralized storage of documentation, as well as the establishment of audit trails and streamlined retrieval.
Regulatory Compliance Management
Companies that are subject to export controls, environmental, and/or safety compliance regulations require a PLM software solution that ensures process, policy, and system adherence. To help organizations mitigate compliance risks, PLM software should help regulated companies adhere to FDA, ISO, RoHS, REACH, ITAR, EAR, and other key industry regulations.
Project Management
Project management capabilities allow the product team to keep track of tasks, assignments, and resources throughout the entire product lifecycle to ensure that all product development milestones are met.
Business Insights
The ability to track and analyze metrics provides organizations greater insight into their product and quality processes to drive continuous quality improvement. Having access to key performance indicators (KPIs) also helps organizations take a more proactive stance in mitigating risks that may negatively impact NPDI.
PLM Integrations
In conjunction with PLM, many organizations rely on upstream and downstream software solutions to help manage the design and production phases of the product lifecycle. By connecting PLM software with these other systems, companies can further streamline their product development process and accelerate time to market (TTM). PLM software should allow for easy integration with these types of systems:
Cloud Infrastructure
As you evaluate and select a PLM software solution, it's critical to consider the impact on your internal infrastructure and IT resources during the initial implementation and as your product development processes evolve. If you're looking for a system that enables fast deployment, requires minimal IT infrastructure, and scales with your business needs—then a cloud-based PLM solution is your best choice. Unlike traditional on-premises PLM solutions which require costly IT resources and expenditures for hardware, software, virtual private networks (VPNs), and other related items—cloud-based platforms include continuous enhancements that are provided by the PLM software vendor. This eliminates traditional upgrade costs, revision-locking caused by customer customization, and ultimately reduces your total cost of ownership (TCO). Cloud-based enterprise solutions such as Arena PLM drive efficiencies throughout the entire product lifecycle, enabling companies to accelerate the introduction of new, innovative products.
Key benefits of Cloud PLM software:

Centralizes the entire product record
Provides real-time collaboration between internal team members and supply chain partners
Enables role-based user access and audit history tracking
Reduces compliance risks
Decreases product costs
Increases productivity (e.g., reduction in design review and engineering change approval cycle times)
Enhances product quality (e.g., reduction in manufacturing errors)
Speeds product launches
Accelerates revenue growth
Things to Consider When Implementing PLM Software
When considering PLM software solutions, it's critical to understand the total cost of ownership (TCO)—not just the cost for the software alone. Evaluate the PLM solution to determine if it is easy to configure or if it requires complex custom coding. Also, consider the resources and support that will be available to your team after go-live.
Consider these key questions when evaluating what it takes to implement a PLM software solution successfully.
Total Cost of Ownership (TCO)
Once a product is developed, the first stage is its introduction or release to market. During the introduction stage, companies invest heavily in marketing to build product awareness and generate consumer interest.
Security
During the growth stage, demand for the new product increases. There is also an increase in production and product availability.
Disaster Recovery
Is the PLM software designed with built-in redundancies to quickly recover from a wide range of system failures?
Implementation and Training
What resources are required from the PLM vendor and your team to complete the software implementation? How much time is needed to configure, test, and go live? What is the PLM vendor's approach to training? Is it a train-the-trainer approach, or will your key stakeholders need to participate in the initial onboarding process? Is training provided via live or recorded sessions?
Ongoing Customer Education and Support
Do you have access to adequate support and educational resources (e.g., best-practice guides, white papers, newsletters) after go-live? Are live, dedicated support staff (e.g., customer success coaches, customer service representatives) available to answer your questions and help drive your successful adoption of the PLM platform?
Scalability
Is the PLM platform designed to easily accommodate additional users, suppliers, and/or functionality as your company continues to grow and product processes evolve?
PLM Resources
ebook
How to Buy the Right Software
White Papers
Breaking Down the Barriers to Product Innovation
How Cloud Solutions Accelerate Return on Investment (ROI)
PLM vs. PDM: Why Product Lifecycle Management Is Required Today
Best Practices
6 Tips for Smoother Product Lifecycle Management (PLM) Software Implementation
Why Cloud Product Lifecycle Management (PLM) Solutions Are Better
The Cost Savings Calculator
What does it cost? A single mistake can be a learning experience or delay your product launch and cost millions of dollars
Ready to Learn More?