Manufacturing Glossary
In our years of working with manufacturers — from high-tech electronic to automotive to medical device companies — we have learned the terms commonly used in their respective industries and compiled them into a list. Leverage this glossary to build your vocabulary of manufacturing acronyms and terms.
A
AML (Approved manufacturer list) A set of approved relationships between manufacturer parts and a company's internally defined parts. Each relationship links a manufacturer's part number to an internal part number and results from the R&D team's identifying the third-party parts that can be used to satisfy the manufacturing demand for the internal part. All approved AML parts for each internal part can share a single inventory bin.
The relationship is usually represented this way:
APQP (Advanced product quality planning) A framework of procedures used to develop products in the automotive industry.
AVL (Approved vendor list) A list of all the vendors or suppliers approved by a company as sources from which to purchase materials.
B
BOM (Bill of materials) The list of parts or items that make up a product assembly. A complete product BOM often includes subassemblies, which may represent different steps in the assembly process. For instance, a lawn mower may include the following elements: a handle assembly, a metal deck assembly, a control assembly, a motor and a blade assembly.
BOM Level (Bill of materials level) The place occupied by a part or assembly in the hierarchy of a BOM.
C
CAD A system used to create physical designs, usually three-dimensional. Some examples of CAD software are SolidWorks by Dassault Systemes, Pro/ENGINEER by PTC and AutoCAD by Autodesk.
CAPA (Corrective action/protective action) A good manufacturing practice (GMP) concept, in which product failures are investigated in an attempt to correct their current occurrence (corrective action) and/or prevent similar occurrences in the future (protective action).
CAR (Corrective action request) A change request documenting a critical problem with a product.
Change Management Process of creating, reviewing and gaining formal approval for engineering change requests, change orders and change notifications.
Change Order See ECN (engineering change notice) and ECO (engineering change order).
Change Request Outlines a problem and proposes an action to address the problem. Some types of change requests are: DCR (document change request), ECR (engineering change request), FFR (field failure request), MCR (manufacturing change request) and SCAR (supplier corrective action request).
Child Item An item that appears in the BOM of another item is said to be a child of that item. For example, a motor would be a child item in the lawn mower BOM example above (see BOM).
CM (Contract manufacturer) A firm hired by a company to manufacture or assemble its product or part of its product.
Compliance The practice of tracking whether or not a product complies with government-imposed regulations or a company's self-imposed standards. Some types of compliance requirements are environmental requirements (e.g. RoHS and WEEE) and medical device regulations (e.g. 21 CFR Part 11 and 21 CFR Part 820).
Compliance Mark A physical mark listed on a product or its packaging to show the product's compliance with a specific requirement (e.g. UL, CE, CCC, FCC and VCCI).
D
DCR (Document change request) A change request which details a problem with a document, specification or SOP (standard operating procedure) and proposes a change to fix it.
DHF (Design history file) A collection of records that describes the design history of a finished medical device. The design history file documents the design decisions made throughout the development of the device including sign-off events, change information, meeting notes, test data and reports and evidence that the device has been scrutinized carefully against design and performance specifications. The design history file provides the chronology of the design, including previous revision information and phase gate details. Source: 21 CFR Part 820 Sec 820.3
DHR (Device history record) A collection of records containg the production history of a medical device. This includes the serial and lot numbers of the devices produced, and any complaints or issues that are lodged against particular devices. In addition, it may include CAPA records describing investigations, corrective and preventive actions and details about how any complaints were addressed.
DMR (Device master record) A collection of records that contain the procedures and specifications for a finished medical device. This includes the BOM for the device, product and material specifications, packaging and assembly instructions. Post processing, cleaning and sterilization requirements, hardware and software specifications and source code may be included too, depending on the type of device. The DMR provides all information required to correctly build the current production revision of the device. Source: 21 CFR Part 820 Sec 820.3 and 820.181
Document Control The function of managing and controlling product documentation. This includes maintaining and properly distributing product files while following revision control procedures.
E
EBOM (Engineering bill of materials) A BOM organized according to CAD/EDA tool and engineers' preferences and processes. The EBOM represents only the physical product being "engineered," not the packaging or manufacturing consumables. It often includes items for a single engineering discipline only, summarizing or excluding items from other disciplines.
ECAD Software (Electrical computer aided design software) Software used in the design and development of electronic systems such as printed circuit boards (PCBs) and integrated circuits (ICs). OrCAD by Cadence, Catia by Dassault Systemes and PADs by Mentor Graphics are examples of ECAD tools.
ECN (Engineering change notice) An official notice that a change has been approved. Many companies use a formal ECN to ensure their CMs (contract manufacturers) and other manufacturing partners are building the right thing. For more information see this article, Engineering change notice (ECN)—The start to an efficient change implementation.
ECO (Engineering change order) Documentation that outlines a proposed change to a design, lists the product or part(s) that would be affected and requests review and approval from the individuals who would be impacted or charged with implementing the change. ECOs are used to make modifications to components, assemblies, associated documentation and other types of product information.
ECR (Engineering change request) A change request listing proposed improvements or problems with components or assemblies. An ECR may be a precursor to an ECO.
EDA (Electronic design automation) Software tools used to develop integrated circuits and systems. Some examples of EDA software include Altium Designer by Altium, DxDatabook by Mentor Graphics and OrCAD Capture CIS by Cadence.
ERP (Enterprise resource planning) Business strategy used to keep track of activities like purchasing, inventory and order tracking. Some examples of ERP software systems include NetSuite and Expandable.
F
FFR (Field failure request) A change request which details a problem with the product as observed in the field.
FFF (Form, fit & function) A description of an item's identifying characteristics. Form refers to the shape, size, dimensions, mass, weight and other visual parameters that uniquely distinguish an item. Fit is the ability of an item to physically interface with, interconnect with or become an integral part of another item. Function is the action or actions that an item is designed to perform. Changes in an item's form, fit or function are typically considered significant enough to merit a new item number. For more information see this article, Form Fit Function: Ensure that necessary part changes have a minimal impact on your manufacturing process.
G
GMP (Good manufacturing practice) A set of guidelines for how to manage each aspect of production and testing that can impact the quality of a product. GMPs are part of a quality system covering the manufacture and testing of active pharmaceutical ingredients, diagnostics, foods, pharmaceutical products and medical devices. Adapted from source: http://en.wikipedia.org/wiki/Good_manufacturing_practice
I
Item A part, process or document included in a manufacturer's product record.
Item Master List of all components that a manufacturer buys, builds or assembles into its products. The item master includes information like the size, shape, material, manufacturer, manufacturer part number and vendor for each component.
ISO 9000 (International standards organization 9000) An international quality-process auditing program. Manufacturers that adhere to specified quality processes receive certification for complying with this standard.
ISO 13485 (International standards organization 13485) Quality system standards and guidelines for the development of medical devices.
ISO 14000 (International standards organization 14000) Standards and guidelines for environmental management systems.
ITAR (International traffic in arms regulations) A set of United States government import and export regulations. Manufacturers in the aerospace and defense industry and others that provide products to the U.S. military and government often have to comply with ITAR.
J
JIT (Just in time) A strategy used to monitor inventory levels with the goal of reducing inventory and associated carrying costs.
K
Kanban A scheduling system that advises manufacturers what to produce, when to produce and how much to produce. Devised by Toyota, the approach is based on demand creating a "pull." Inventory is replenished only when visual cues like an empty bin or cart show that it's needed. This differs from a "push" inventory system where deliveries are planned in advance based on a master schedule. Adapted from source: http://en.wikipedia.org/wiki/Kanban
M
Made-to-Spec Describes an item that is made to a company's specifications internally or by a supplier.
MBOM (Manufacturing bill of materials) A BOM organized into subassemblies that reflect the manufacturing process. The MBOM represents the physical product, packaging and included documentation. It contains all components required to build the product — made-to-spec, off-the-shelf, mechanical, electrical, software and firmware.
MCAD Software (Mechanical computer aided design software) Software used by mechanical engineers to develop concepts and designs of mechanical systems. Some examples of MCAD software include SolidWorks by Dassault Systemes, Pro/ENGINEER by PTC, Solid Edge by Siemens and AutoCAD by Autodesk.
MCO (Manufacturing change order) A change order used to make a manufacturing change. This typically does not involve a design change to the item. An example is a change to the approved manufacturer list (AML) or a change in the manufacturing processes used to produce a part. If a MCO does require a design change is it often accompanied by an ECO. For more information see this article, Three tips for creating a manufacturing change process that works.
MCR (Manufacturing change request) A change request used to propose a manufacturing change that does not require a design change to an item. An example is a change to the approved manufacturer list (AML).
Manufacturing Deviation A temporary change in production or a manufacturing procedure. An example is the use of a substitute part. Deviations may be planned or unplanned.
MES (Manufacturing execution system) A system that controls and manages production on the factory floor with the goal of reducing the total time needed to produce an order.
Markup A document, such as a redlined drawing, that has annotations indicating recommended changes to a file.
Multi-level BOM A BOM that captures how multiple sub-assemblies come together to produce a final product. It can be visualized as a nested list whose parts or items are listed in two or more levels of detail. For more information see this article, Managing Multi-Level BOMs.
In this example the "400000-00 Lawn Mower" shows the level 2 details of "100000-00 Assy Handle":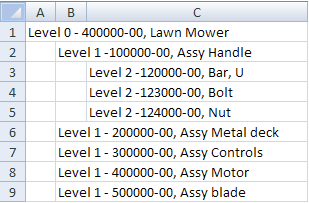 MWI (Manufacturing work instructions) Information and directions on how to perform a manufacturing task.
N
NPD (New product development) The overall process of conceptualizing, designing, planning and commercializing a new product. NPD is also frequently referred to as "product development."
NPD process (New product development process) A disciplined and defined set of tasks and steps that describe the normal means by which a company repetitively converts embryonic ideas into salable products or services.
NPI (New product introduction) The market launch or commercialization of a new product. NPI takes place at the end of a successful product development project.
O
OEM (Original equipment manufacturer) The original manufacturer of a product that may be sold or marketed by another company.
Off-the-Shelf Describes an item that is procured from a supplier as-is, with no modifications.
P
Parent Item Describes an item that contains another item (i.e. a child item) in its bill of materials. An assembly-component or assembly-subassembly relationship can be described as a parent-child relationship.
Part Name A unique name assigned to a part.
Part Number A unique numerical value assigned to a part.For more information see the following articles: Part Numbering Schemes—Intelligent vs. Non-Intelligent and Part number system: How to get started.
PDM System (Product data management system) Also referred to as a "work in progress (WIP) vault" or file repository. A PDM system is used to hold mechanical CAD files, including parts and assembly models as well as drawing files.
PDX (Product data eXchange) An iNEMI (international electronics manufacturing initiative) standard. PDX is an open XML (eXtensible markup language)-based standard allowing organizations to access their data directly, even using their own XML-based applications/tools. PDX is commonly used throughout the design chain and the supply chain to deliver the multi-level BOM, AML, recent change history and supporting design files zipped in a single file. There are several free PDX viewers on the market. Check out Arena PDXViewer - a cloud-based PDX Viewer. PDX standards information can be found on the iNEMI site.
PLM (Product lifecycle management) The management of the product record, including bills of materials, specifications, revisions and changes, from prototype through end-of-life.
Procurement Type Describes how a part is bought or made, typically OTS (off-the-shelf) or MTS (made-to-specification). In some cases the part may be built in house or outsourced from a vendor.
Product Record A general term that describes all design, manufacturing, quality, sales and repair information about a product.
Prototype An engineering-quality sample build of a product, typically intended to test high-risk aspects of the design.
Q
QMS (Quality management system) Documents all aspects of a company's design and operational controls, including monitoring, issue reporting, continuous improvements and training, in order to ensure that product design and manufacturing have statistically in-control repeatable product deliveries. It can also be a set of controls for other departments, such as human resources, Finance/accounting and corporate reporting.
R
Redline is the marking of an assembly drawing or bill of materials (BOM) to indicate a modification.
Reference Designator An alphanumeric code (e.g., R17) that gives the physical location of a component on a PCB (printed circuit board). A code for each part is listed on the bill of materials and physically printed on the PCB so the manufacturer knows where to place all the components.
Requirement References the standards against which companies measure their products. A requirement could be a government regulation regarding environmental or safety concerns, or any internal standard.
Revision A snapshot of a product, part, process, program, design or document at any moment in its development.
Revision Control The process of tracking and documenting changes to a product, part, process, program, design or document.
RoHS (Restriction of Hazardous Substances in electrical and electronic equipment 2002/95/EC) An initiative that was adopted by the European Union (EU) in February 2003 and put into effect July 1, 2006, to restrict the usage of six hazardous substances—lead, mercury, cadmium, hexavalent chromium, polybrominated biphenyls and polybrominated diphenyl ethers—in products sold within the EU.
RMA (Return material authorization) A financial and work order tracking key to identify a returned item's origination. Used in a transaction in which a customer returns goods to a manufacturer, often to have them repaired or replaced.
S
SCAR (Supplier corrective action request) A change request describing an issue with a part, process or component from a supplier and asking for a resolution. A SCAR sometimes includes details about how the complaint should be addressed.
Scrubbing Used in the phrase "scrubbing a BOM" to describe the process of confirming that all aspects of a bill of materials (BOM) are documented accurately in the appropriate control systems and verifying that the BOM represents a manufacturable assembly.
Single-Level BOM A bill of materials that lists all the parts or items in a product assembly one level below the top-level assembly. In the example below, "400000-00 Lawn Mower" is the top-level assembly and this is its single-level BOM:
400000-00, Lawn Mower

100000-00, Assy Handle
200000-00, Assy Metal deck
300000-00, Assy Controls
400000-00, Assy Motor
500000-00, Assy blade
SKU (Stock keeping unit) A unique sales stock identifier usually controlled by the business side of a company. A SKU is generally disassociated from the engineering definition and engineering change controls for a product.
SOP (Standard operating procedure) A written document or instruction detailing all steps and activities included in a process or procedure. Adapted from source: http://en.wikipedia.org/wiki/Standard_operating_procedure
T
Title 21 CFR Part 11 Code of Federal Regulations that deals with the Food and Drug Administration (FDA) guidelines on electronic records and electronic signatures in the United States. Defines the criteria under which electronic records and electronic signatures are considered to be trustworthy, reliable and equivalent to paper records. For more information on 21 CFR Part 11, visit the FDA website.
Title 21 CFR Part 820 Quality system regulation set forth by the United States Food and Drug Administration (FDA). The purpose is to ensure that quality systems involved in the manufacture of pharmaceutical products and medical devices are appropriate for the specific items designed or manufactured. For more information on 21 CFR Part820, visit the FDA website.
TTM (Time to market) The period of time from development of a product concept to availability of the finished product. It starts when a development project has been agreed to and resources have been committed and ends when the final product is shipped to customers. For more information, please see this article: Improving Time to Market.
U
UOM (Unit of measure) Describes how manufacturers use or buy a part. The most common UOM is "each," but standard measures like feet, inches, pints, drops, box, etc. can also be used.
W
WEEE Directive (Waste electrical and electronic equipment directive) European Community directive 2002/96/EC where manufacturers are responsible for disposing of electrical and electronic equipment waste.